You can choose as a prepaid account user or monthly subscription user. There is no lock-in contract.
Monthly subscription users are licensed users. Each licence allows up to 2 devices to connect to our API interface.
Currently, all new user will have 30-day free trial. You can choose to top up your account or renew your subscription at anytime.
To top up, add the top up amount (quantities) by selecting the product of 'Account Topup' on our online shop front and check out.
To renew the subscription, select the product of 'Monthly Subscription' on our online shop front, enter the months ( quantities ) to renew, then check out.
At the moment, we are offering templates of visa 500 student applcation and form 956 for free download (needed to be added to cart and checked out on our shop front)
---
Prices are:
For monthly subscription users: $22/month per API account per licence For one API account, each licence allows a maximum of up to two devices to connect to the API. (The price has been reduced significantly to support the industry affected by the COVID-19 pandemic.)
For prepaid account user: fees are charged at the point of time using online or PDF forms filling service.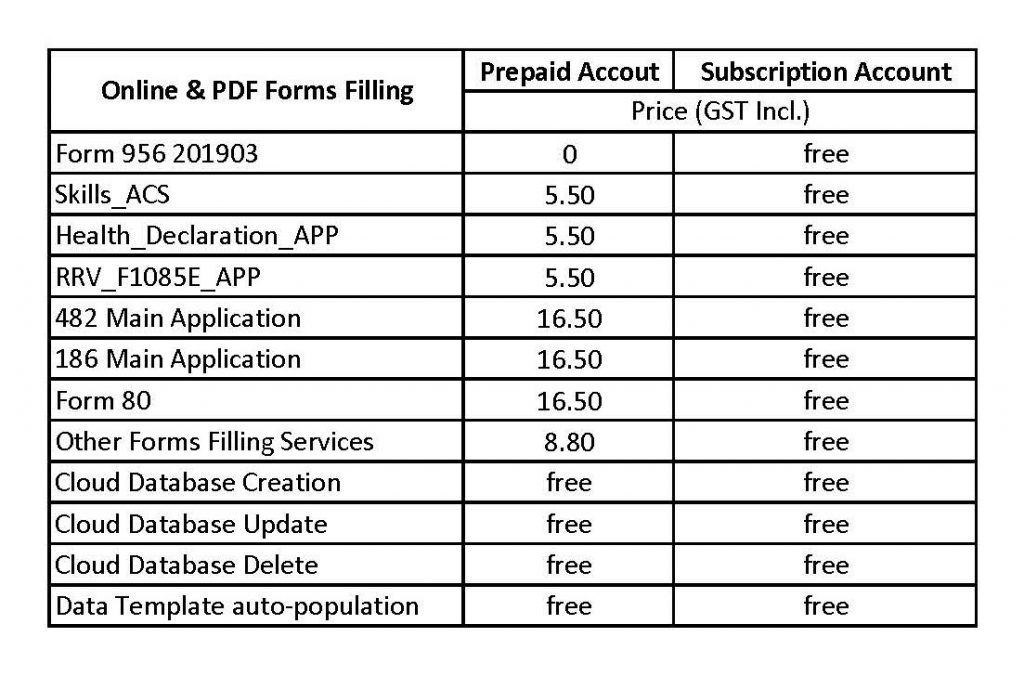 Currently, we offer free cloud database maintenance services for all users. Multi-purpose data templates can be purchased and downloaded on our online shop front.
We may revise the pricing from time to time by updating this page. The revised pricing will take effect when it is posted here.
For prepaid account user, the online and pdf form filling service will open for 90 days, which means that in 90 days, you will have unlimited times to use the same service for your same client.
The benefits for monthly subscription users include:
5 free multi-purpose data templates of your choice
Unlimited times of forms filling service
Unlimited online tickets support
To accept the offer of 5 free data templates, they must be added to the cart together with the monthly subscription product and completed in one transaction.
The copyright of this website and the material on this website is owned by Visa Robot Software Pty Ltd. All material on this website is copyrighted.
You are purchasing the services provided by us or the right to use our material. For the material, including but not limited to multi-purpose templates, we permit you to download, display, print and reproduce in an unaltered form only for your personal, non-commercial use, for use within your organisation or for data collection purposes from your clients. Apart from any use permitted under the Copyright Act 1968, all other rights are reserved.